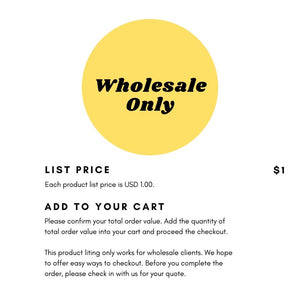 This product listing only works for wholesale clients to check out. The purpose of this listing simplifies the procedures when a bulk order includes different products. Before you complete the order, please make sure of the following things.
No.1 Formal invoice
Please ensure you get an invoice from Timeyard. For more information, get in touch with service@timeyard.com
No.2 Add quantities to your cart
The product listing price is USD 1.00 & USD 0.10. Product quantity is your total order value. Please add it to your cart and proceed with checkout.